The Mighty Penguins Organization, nominated by Kyle Burgess, won the Jefferson Award for Public Service Team of 2016.  Each organization nominated shared their stories of what a volunteer can do to bring positive influences to so many worthy causes.  The Mighty Penguin Board Members accepting the award were touched, moved and informed of organizations making a difference every day in our hometown of Pittsburgh.
We thank the Post-Gazette, BNY Mellon and Highmark for sponsoring the award and ceremony at the Heinz History Center.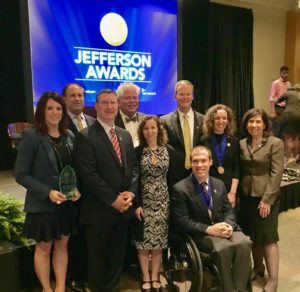 Read the full story:
http://www.post-gazette.com/life/lifestyle/2017/05/07/Jefferson-Awards-Mighty-Penguins-Sled-Hockey-board-wins-Public-Service-Team-Award/stories/201705070002
More about the Jefferson Award:
Named for Thomas Jefferson, one of America's most influential Founding Fathers and the principal author of the Declaration of Independence, the Jefferson Awards' central tenet is that each and every citizen shares a responsibility to work toward the betterment of their communities through economic participation, public service, volunteerism and other such efforts to improve life for all. Today, the mission of the Jefferson Awards is to recognize, inspire and activate volunteerism and public service in communities, workplaces and schools across America. To date, more than 50,000 individuals, including many prominent Americans, have been recognized by the Jefferson Awards for their efforts to make the world a better place. For more information, visit www.jeffersonawards.org.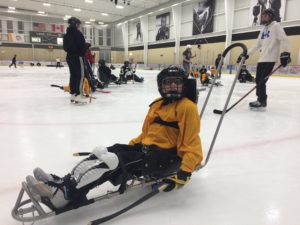 CRANBERRY TWP., PA – (JUNE 1, 2017) – The Pittsburgh Mighty Penguins are proud to announce that it has received a $5,400 Quality of Life grant from the Christopher & Dana Reeve Foundation. The award was one of 102 grants totaling $721,425 awarded by the Reeve Foundation to nonprofit organizations nationwide that provide more opportunities, access, and daily quality of life for individuals living with paralysis, their families, and caregivers. Conceived by the late Dana Reeve, the program has awarded over 2,900 grants totaling over $20 million since 1999.  Funding for the grants is made available through the Paralysis Resource Center (PRC) operated by the Reeve Foundation under a cooperative agreement with the Administration for Community Living in the U.S. Department of Health and Human Services.
The Mighty Penguins Sled Hockey operates therapeutic and competitive ice hockey programs for the benefit of physically disabled individuals in Pennsylvania and adjacent areas.  With the grant, the Mighty Penguins purchased eight new hockey sleds, of which three were specialty sleds with extra support, and eight sets of hockey sticks.  The additional hockey sleds and sticks have given the organization the ability to serve even more children and adults with disabilities.
The grants awarded in the second cycle of 2016 were distributed among a wide variety of categories, including recreation, sports and leisure, advocacy, equipment and other independent living-related services. A significant number of projects focus on community re-integration initiatives such as assistive technology programs, home accessibility modifications, accessible transportation, and accessible playgrounds that create more community opportunities for those living with paralysis and their families.
"It's important to find balance while filling the needs of the community, especially those living in underserved areas," said Donna Valente, Director of Quality of Life Grants. "People may live only a few blocks from an outstanding adaptive recreation program, but if they don't have a ramp to get out of their homes or accessible transportation to get to that location, they can't participate in the activity, and we really aren't meeting the overall goal of this program. That's why we examine every proposed project to see the impact it will have in the community, and try to determine how we can best help them reach their full potential."
About the Reeve Foundation
The Christopher & Dana Reeve Foundation is dedicated to curing spinal cord injury by funding innovative research and improving the quality of life for people living with paralysis through grants, information and advocacy. The Paralysis Resource Center (PRC) is the support side of the Reeve Foundation's twin missions to provide "Today's Care" and to strive for "Tomorrow's Cure" and offers a free, comprehensive, national source of informational support for individuals living with paralysis and their caregivers. We meet all 20 of the Better Business Bureau's standards for charity accountability and hold the BBB's Charity Seal. For more information, please visit our website at www.ChristopherReeve.org or call 800-539-7309.
About the Mighty Penguins Sled Hockey
In 1998, volunteers from Shriner's Hospital for Children in Erie introduced the sport of sled hockey to Pittsburgh and the Mighty Penguins were born! Initially the goal was to provide children and young adults with physical disabilities the opportunity to participate in a competitive sport. The parents and guardians of these players have seen firsthand the physical and emotional benefits of the program. Many local organizations have helped our program by donating ice time, equipment, customized hockey gear and insurance. Individuals throughout the Greater Pittsburgh area volunteer their time and talents to educate and assist our players.
Mighty Penguins Sled Hockey
info@penguinssledhockey.org
# # #
Amy Brown
Executive Director
Mighty Penguins
724-766-9333
amy.brown@penguinssledhockey.org
Rita Gentles
(973) 379-2690 ext. 7123
In an exciting finish to the 7th annual USA Hockey Sled Classic presented by the NHL, Pittsburgh's Mighty Penguins Senior team was crowned Tier 2 Champs, defeating Keystone State rivals, the Philadelphia Flyers, 7-3!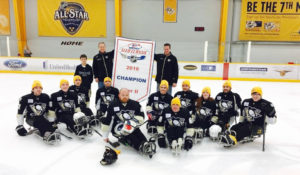 The Mighty Penguins Adult Intermediate Team also made it to the championship in the Tier V division and finished 2nd with a heartbreaking loss to Carolina 3-0.
This year's NHL Sled Classic was hosted by the Nashville Predators at the Ford Ice Center in Antioch, Tennessee and included a record 24 teams, each affiliated with an NHL club. The Mighty Penguins were proud to send both of our adult teams for the 2nd year in a row. A huge thanks to the Nashville Predators, USA Hockey Disabled Section & the NHL for sponsoring another great tournament!
For full coverage of the NHL Sled Classic, click here