Partners
---
 Pittsburgh Penguins Foundation

The Pittsburgh Penguins Foundation continues to proudly partner with the Mighty Penguins Sled Hockey organization.   The mission of the Penguins Foundation is to actively promote physical well being, encourage teamwork, and provide essential life skills to young people in our community.  True to this mission, the Pittsburgh Penguins Foundation has proudly supported both the youth and adult athletes at the Mighty Penguins.  Getting a good workout, building self-esteem, and being part of a team are just a few of the benefits that sled hockey has to offer the amazing athletes at the Mighty Pens!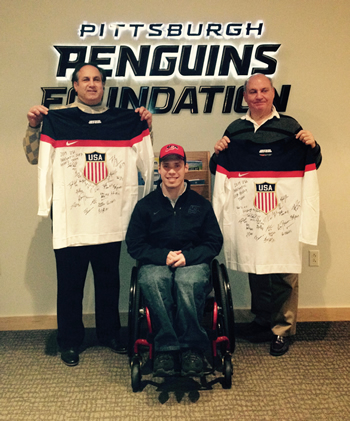 In 2010, the Pittsburgh Penguins Foundation enthusiastically supported the Mighty Penguins Senior Team at the 1st USA Hockey NHL Sled Classic in Denver, Colorado.  The NHL sponsored tournament gave adult sled hockey teams across the country the opportunity to compete while representing their local NHL franchise.  Through the Penguins Foundation support, the Mighty Penguins had the opportunity to represent not just the Pittsburgh Penguins, but our fans and the city of Pittsburgh as well.  The Mighty Pens team proudly returned with a bronze medal!
Fundraising efforts in 2011 enabled the Pittsburgh Penguins Foundation to dramatically increase their grant assistance and support for "Hockey is for Everyone" initiatives.  Through the Civic Arena Roof ornament sales, the Foundation was able to give a significant grant to the Mighty Penguins to further their initiatives to provide physically disabled players an opportunity to play hockey.
As the Pittsburgh Penguins Foundation enters the 7th year of partnership with the Mighty Penguins sled hockey teams, we are proudly committed to continuing to support the dreams of these very inspiring athletes.  Let's Go Pens!
---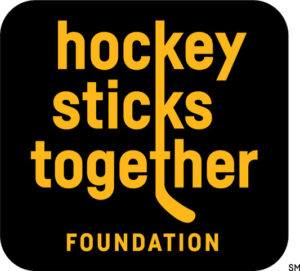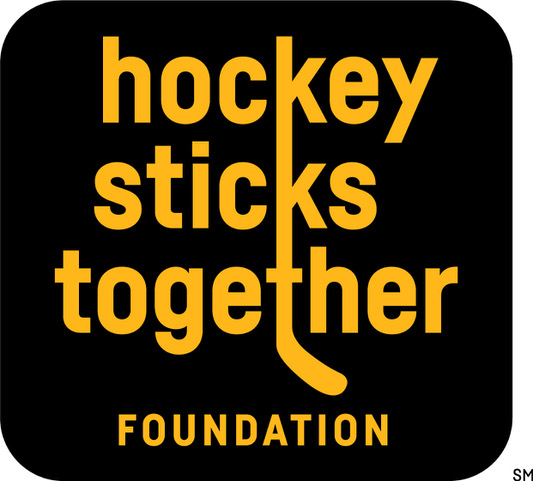 Hockey Sticks Together Foundation
The Hockey Sticks Together Foundation was organized to provide leadership, strategic direction, fund development and organizational resource support to non-profit special needs and inner-city hockey programs in Western Pennsylvania. In partnership with the Pittsburgh Penguins Foundation, USA Hockey and the NHL's "Hockey Is For Everyone" program, the Hockey Sticks Together Foundation provides the support needed for each of these programs (including the Mighty Penguins) to expand their fund development and community outreach to increase the number of participants in all disabled and inner-city programs.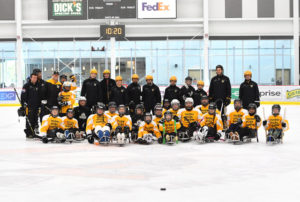 Learn more about Hockey Sticks Together https://hockeystickstogether.sportngin.com/
---
UPMC Rehab Institute

UPMC Rehab Institute is a dedicated partner in our mission to provide individuals with physical disabilities the opportunity to play a team sport with minimal financial impact to families.
Dr. Mike Boninger, Director of the UPMC Rehabilitation Institute and a renowned researcher in spinal cord injury and assistive technology, knows first hand the impact that playing a sport has on the recovery, development and emotional well being of disabled individuals.  When two of his residents saw sled hockey being played at a local rink, they immediately shared the details of the program with Dr. Boninger, who enthusiastically embraced and supported our mission.  Dr. Boninger shares his insight into sled hockey and the impact of sports on disabled individuals in an article he wrote entitled "The Transformative Power of Sports".
In addition to the generous financial grant the Mighty Penguins receive from the UPMC Rehabilitation Institute, the doctors, nurses, therapists and staff host an annual "Just Ice It" Sled Challenge playing their team against the Mighty Penguins senior team.  In addition to having a great time taking on our senior team in sleds, the UPMC Rehab team has an opportunity to learn just how serious the Mighty Pens players are about their slogan "Get Ready to Play…Our Way".  They gain an appreciation for how much effort and determination it takes to play sled hockey and how much their patients overcome to succeed.  The transformation is amazing not only for our Mighty Pens athletes, but also for the staff of the Rehab Institute!

With the support of the UPMC Rehabilitation Institute, the Mighty Penguins have been able to grow our program and offer opportunities to new players of all abilities who are looking to get on the ice for therapeutic recreation or for those who want to play sled hockey competitively.  We are grateful for our partnership with UPMC Rehabilitation Institute and the opportunities provided for our amazing athletes!
---
Jones Day

Jones Day and the Jones Day Foundation proudly support the Pittsburgh Penguins Foundation and the Mighty Penguins sled hockey program in their mission to actively promote physical well being, encourage teamwork, stress the value of education, and provide essential life skills to young people in the Pittsburgh community through youth hockey and other activities.
In 2011, in addition to Jones Day Pittsburgh, the Cleveland, Columbus, New York, Boston, Dallas and Washington offices, were challenged to help meet the goal of outfitting at least 20 new Mighty Penguins players for the upcoming sled hockey season. The cost to equip a player, including insurance, is $1,315. This special fundraising event welcomed all levels of participation, allowing donors to purchase various items of equipment ranging from $35 up to $800. The fundraising efforts wrapped up November 7, 2011 and raised over $33,500, fully equipping 24 children, exceeding all expectations.
Jones Day is a leading global law firm which provides significant legal representation for Fortune 500, Fortune Global 500 and FT Global 500 companies.  The continued support of Jones Day and the Jones Day Foundation has been invaluable to the success of the Mighty Penguins organization and our amazing athletes!
---
IHC Hockey, Inc.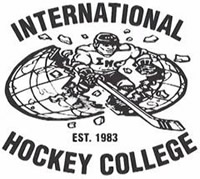 IHC Hockey, Inc. President, Bob Gergerich, has been a tremendous Mighty Penguins partner since the club's early days.  Bob joined our team over 13 years ago when the club was just 1 small team of 8 young players coached by their parents.  While these kids could do the basics like skate and shoot the puck, Bob dedicated his time and shared his love of the game to help take these players and the team to the next level.
Bob shared his tremendous hockey knowledge and taught both the kids and coaches how to play hockey.  Bob, along with his IHC Hockey Instructors, regularly attends Mighty Penguins' practice, dividing his time between the junior and senior teams.  His hockey knowledge has given our Mighty Penguins teams an edge in competition but more importantly, the confidence to succeed in life.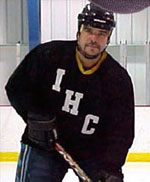 The success that this organization has achieved would not have been possible without Bob Gergerich's selfless dedication.  We will forever be grateful for all that Bob has done for the Mighty Penguins program.  Thank you Bob and IHC Hockey, Inc!
Robert Gergerich founded the International Hockey College (IHC) as a teenager while playing Junior Hockey in Canada. He realized there was a need for a top quality hockey school, not just a camp where the students attended to see and skate with their favorite NHL players. Now entering its 33rd season, the IHC is known as the number one hockey school in Pennsylvania and has expanded to worldwide status in the hockey instruction and player representation business. The IHC is now in the United States, Canada, and Europe. The IHC is a full time, full service hockey business, dedicated to the development of hockey players.
---
DICK'S Sporting Goods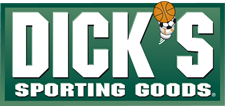 DICK'S Sporting Goods, Inc. has been a tremendous sponsor of Pittsburgh youth hockey and community initiatives. They proudly partner with and support the Mighty Penguins Sled Hockey athletes. Through their sponsorship, the Mighty Penguins players and their families have an opportunity to play the sport they love with minimal equipment cost. DICK'S Sporting Goods provides players with jerseys and equipment, offsetting the financial burden for the families so their athletes can focus on playing the sport they love.
DICK'S Sporting Goods is proudly sponsoring Team USA Olympic and Paralympic athletes, including Mighty Pens Paralympic gold medalist, Dan McCoy. McCoy has this opportunity along with nearly 200 other Olympic and Paralympic athletes as part of DICK'S Team USA Contenders Program, which offers them the support they need.  DICK'S has launched dicks.com/TheContenders to provide fans with profiles of the Team USA Contenders, updates on their Olympic and Paralympic Games journey and track the Team USA medal count and corresponding donation amount to the various, benefiting youth sports organizations. You can check out Dan McCoy's Contender story here: http://whirlmagazine.com/paralympian-dan-mccoy-reps-pittsburgh-in-dicks-olympic-contenders-program/
Founded in 1948, DICK'S Sporting Goods, Inc. is a leading omni-channel sporting goods retailer offering an extensive assortment of authentic, high-quality sports equipment, apparel, footwear and accessories. As of January 30, 2016, the Company operated more than 640 DICK'S Sporting Goods locations, serving and inspiring athletes and outdoor enthusiasts to achieve their personal best through a blend of dedicated associates, in-store services and unique specialty shop-in-shops.  Headquartered in Pittsburgh, PA, DICK'S also owns and operates Golf Galaxy, Field & Stream, True Runner and Chelsea Collective specialty stores. For more information, visit the Press Room at DICKS.com.
---
Christopher & Dana Reeve Foundation

The Mighty Penguins is supported by a Quality of Life Grant generously given by the Christopher & Dana Reeve Foundation to purchase 8 new sleds and sticks.  The Foundation has supported programs with over 2,500 grants over $19 million since starting in 1999.  The Mighty Penguins are fortunate to have the support of such a positive organization with a rich tradition for supporting the spinal cord injury community.
Feature in Reeve Foundation Newsletter: https://www.christopherreeve.org/blog/daily-dose/story-of-impact-mighty-penguins-sled-hockey