Our Staff
Amy Brown, Executive Director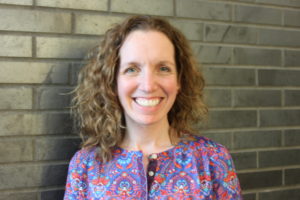 Amy Brown and her husband, Eric, had a healthy aspiring hockey player taking stand-up ice skating lessons.  At four years old Alex, had a spontaneous spinal epidural hematoma resulting in a spinal cord injury. Alex's family remained positive through an extended hospital stay and subsequent complications. Learning about sled hockey while as an inpatient set up their introduction into the sport. Alex immediately loved it and his entire family has been their to support the program ever since. Amy is the Mighty Penguins Executive Director, Eric is a hockey coach and her father, Jay Roach is a volunteer in the equipment room.  Inspiring players, the opportunity to be on a team and compete are just a few amazing reasons to love sled hockey!
With the Brown's commitment to Alex regaining as much function as possible, they have researched and identified innovative programs. Their family including Alex's younger sister, Abigail, stay at a Ronald McDonald House each summer as Alex participates in an intensive therapy program for 8-12 weeks researching pediatric spinal cord injury recovery.  Amy has built a network of families and reaches out to local families that are facing similar challenges.  Out of this effort, the Browns started the nonprofit Rise Again to help families in Western PA with spinal cord injuries.  Amy is the President of Rise Again and enjoys the outreach efforts the most in connecting and educating families.
Throughout all of Alex's health issues, Amy has continued working at DICK'S Sporting Goods as a Regional Recruiter at the corporate office.  She has worked her way up to her role she had to step back from while taking care of her family.  Amy has a MS in Marketing and a BSBA from Robert Morris University.
Check out Alex Brown's story here.
---
Joe McCormick, President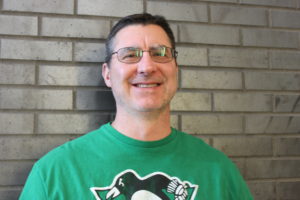 Joe McCormick became the assistant coach for the novice team for the 2016/2017 season.  Joe became an immediate fan of sled hockey and the Mighty Penguins when his daughter, Abby who is 17 years old with spina bifida, began playing sled hockey at the start of the 2015/2016 season.  Joe is a former wrestling and football coach and has coached Abby's baseball team through the Miracle League of Southwestern Pennsylvania since 2011.
Joe has served on the board of directors for the Spina Bifida Association of Western Pennsylvania and Spina Bifida Housing, Inc. since 2006 and has held several volunteer positions at his church, Ken Mawr United Presbyterian Church, including the head of finance.  Joe and his wife Melissa and Abby live in Robinson Township with Abby attending Montour High School.  Joe is a CPA and certified treasury professional and has worked at Federated Investors, Inc. for over 25 years and is the Director of the Corporate Treasury department.
---
Erica Burg, Treasurer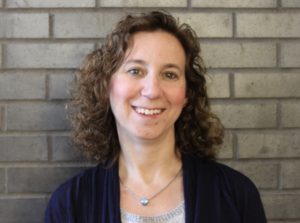 Erica Burg got involved with The Mighty Pens in 2015 when her hockey playing daughter decided to volunteer as part of her Bat Mitzvah project. She began pushing players and formed friendships along the way. Her son also began volunteering as he also plays hockey and it was a great way for both kids to do something they love while helping others enjoy the sport.
Erica is not new to helping in the community she is Chief Operating Superhero of The Superhero Foundation. The Foundation was brought to Pittsburgh by Erica in 2008 raising awareness for the prevention of child abuse. There is annual walk/run that takes place every April in North Park with proceeds benefiting CASA of Allegheny County.
She lives with her 2 kids Charney and Lucas, Husband Chuck, 2 cats and 3 dogs one of which has just become a certified therapy dog. She works as a Sr. Sales & Financial Analyst at Forever Inc helping people Collect, Curate and Celerbrate their memories permanently for generations.
---
 Head Coaching Staff
Ray Harding
Senior Team
In his 16th year as head coach of the Mighty Penguins Sled Hockey teams, Ray Harding continues to devote his time to mentoring our amazing athletes. Ray and his wife Tammy were integral to the early success of the Mighty Penguins team. When Ray's then 8-yr old son Zach, who was born with Spina Bifida, witnessed the Mighty Penguins on-ice at Harmarville Bladerunners, he was hooked!  It didn't take long for Ray to learn the game and coach this group of kids.  The rest is history!  Thanks to Ray's dedication, the program grew from 1 team of 8 players to a 4 team, 56 player organization entering the 2016-17 season.
In 2013, Ray was honored by the Pittsburgh Penguins with the 2nd Annual Founders and Builders Award for his selfless dedication to the growth of hockey in Western Pennsylvania.
---
Lou Ruzzi
Intermediate Team
Lou Ruzzi became involved with the Mighty Penguins through his daughter, Danielle.  Danielle was born with spina bifida and started playing sled hockey at age 16. Now 22, Danielle is still playing sled hockey at California University of Pennsylvania where she is majoring in communications.
Lou has coached a variety of sports for his four children throughout the past 20 years. His experience includes baseball (t-ball/travel teams/American Legion), girls softball (t-ball/travel team/under 18), and boys and girls basketball (3rd – 8th grade levels). Lou added sled hockey to his coaching repertoire last season as a coach of the Mighty Penguins Intermediate Team.
Lou has worked as a civil engineer for over 35 years, the last 31 years being with PennDOT.  He has also served as the District Bridge Engineer for the Pittsburgh area for 17 years.
---
Eric Brown
Junior/Novice Team
Eric Brown comes to the Mighty Penguins with over 20 years of coaching experience.  He has coached wrestling, cross country and track at the high school and middle school levels.  After Eric and Amy's son, Alex, suffered a spinal cord injury his focus changed to adaptive sports.  Eric has always been a fan of hockey but never played the game.  He started volunteering at the Mighty Penguins soon after Alex started playing sled hockey. He helped his daughter, Abigail, learn to skate so the family can enjoy skating together.  Eventually, Eric became the head coach of the Junior team.  He has been involved with the Mighty Penguins for over five years on and off the ice.  In addition, Eric coaches his son's Miracle League baseball team during the spring and fall seasons.  Currently, Eric is an eighth grade history teacher at Pine-Richland Middle School. He is also a board member and founder of Rise Again to help families in Western PA with spinal cord injuries.
Check out Alex Brown's story here.