Pittsburgh Police Take the Ice to Face-Off with the Mighty Penguins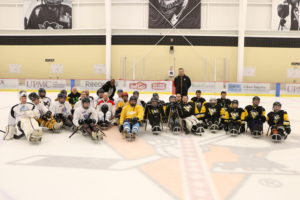 On February 17, 2018 the Mighty Penguins Intermedaite team faced off against the Pittsburgh Police Department. This event was in honor of Martin Joyce, a retired police officer that recently passed away. Officer Joyce had two grandchildren that play for the Mighty Penguins, and the family felt what a better way to honor their Grandfatherthan to raise money for the Mighty Penguins organization in his honor.
The Pittsburgh Police Officers arrived ready to play but soon realized playing hockey in sleds is harder than it looks. The officers enjoyed playing so much, they would love to do it again next year. In total, we raised over $1200 for the Mighty Penguins.  Thank you, Pittsburgh Police for taking the time to help our teams!