Championship Games at the NHL Sled Classic!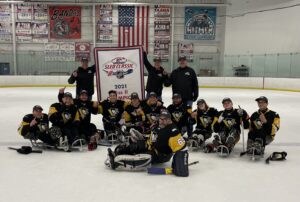 A special thank you to the Pittsburgh Penguins for continuing the tradition of endorsing two of our adult teams to represent the Pittsburgh Penguins at the 2021 USA Hockey Sled Classic sponsored by the NHL.  The Mighty Penguins have participated in the USA Hockey Sled Classic annually since the very first tournament in 2010.  In order to participate in the USA Hockey Sled Classic a NHL team affiliation is a requirement.  The 11th Annual USA Hockey Sled Classic was held in Wayne, NJ at the Ice Vault Arena.
With the support of the Penguins, the Mighty Penguins Senior and Adult Black teams traveled to New Jersey.  The teams enjoyed meeting up with friends from teams across the country and especially enjoyed the intense competition.  We are very proud of the accomplishments of both participating teams. Our Senior team won the Championship in their division. Congratulations Seniors, 2021 USA Hockey Sled Classic Tier II Champions!  Our Adult Black won second place in their division.  Congratulations Adult Black, 2021 USA Hockey Sled Classic Tier IV – second place!  We look forward to returning in 2022!