Mighty Penguins clinch National title at USA Hockey's 7th Annual NHL Sled Classic!
In an exciting finish to the 7th annual USA Hockey Sled Classic presented by the NHL, Pittsburgh's Mighty Penguins Senior team was crowned Tier 2 Champs, defeating Keystone State rivals, the Philadelphia Flyers, 7-3!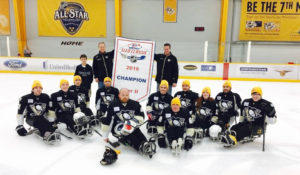 The Mighty Penguins Adult Intermediate Team also made it to the championship in the Tier V division and finished 2nd with a heartbreaking loss to Carolina 3-0.
This year's NHL Sled Classic was hosted by the Nashville Predators at the Ford Ice Center in Antioch, Tennessee and included a record 24 teams, each affiliated with an NHL club. The Mighty Penguins were proud to send both of our adult teams for the 2nd year in a row. A huge thanks to the Nashville Predators, USA Hockey Disabled Section & the NHL for sponsoring another great tournament!
For full coverage of the NHL Sled Classic, click here