Dan McCoy's reflections on DICK's Sporting Goods Contenders program, the 2016 Rio Olympics & Paralympics, and his personal Paralympic success at the 2014 Sochi Winter Paralympics!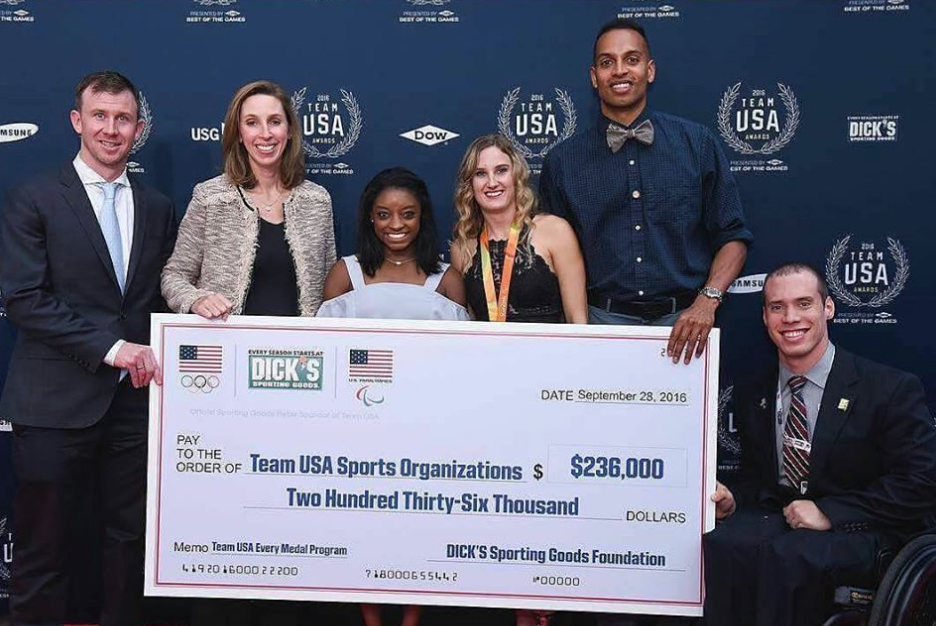 Team USA Best of….
You!
The USA and the world witnessed the top athletes from around our great country compete for their nation, families and friends, and themselves. These athletes displayed amazing feats of courage, strength, and perseverance throughout 2016 Rio Olympics and Paralympics this summer. The media in the USA tried to capture what it was like for the athletes as they trained and competed on the world's biggest stage. Simply watching the games on TV, however, doesn't do justice to the hard work, perseverance, and sacrifice that goes into competing at the top level of a sport.
In 2014, I was blessed to be one of those athletes competing in the Paralympic Winter Games in Sochi Russia.  Winning a gold medal at the Paralympics was something I had dreamed about since I was 8 years old. Being able to see that dream realized 12 years later was indescribable. Watching this summer's games brought back all of the emotions from 2014.
This September, I had the incredible privilege to attend the 2016 Best of the US Award Ceremony which honored the Rio Olympic and Paralympic athletes for their amazing performances. I was asked this year to be the Winter Paralympic representative for Dick's Sporting Goods' Contenders program which employs Olympic and Paralympic hopefuls who are working towards achieving their dream of competing for a chance to represent their country on sport's biggest stage.
This was my second time attending the amazing event.  I attended in the fall of 2014 as a member of the US Paralympic Sled Hockey Team. At the 2014 Best of the US Award Ceremony, we were recognized with the "Team of the Paralympic Games" award.  This was just more icing on the cake of an amazing year. Having been to Best of the Games once already as an athlete, it was extremely humbling to attend as a representative and meet some of the world's best Summer Olympic and Paralympic athletes in person.
Whether I was shaking hands with Simone Biles or chatting with Lex Gillette, we all understood what it took to get to this point.  Regardless of whether one competed in the Olympics or Paralympics, our journeys have followed similar paths.  The paths involved hard work, very high highs and very low lows, and ultimately tremendous perseverance to become one of the few blessed athletes to compete for our country.
As Director of Player Development for the Pittsburgh Mighty Penguins Sled Hockey Organization, one of my goals is to help players develop the athlete within each of them.   By doing so, I hope that players see that working hard at a sport you love will not only improve your game on the ice but will improve your overall well-being off the ice. Overall health, self-confidence, and improved independence are sure to follow.   I'll be the first to say that the journey is not easy but it is very well worth it.
At the end of the day, it does not matter what your abilities are, it matters how you use those abilities to become the best version of yourself. Regardless of your situation, it is very important to always set goals and never quit working for what you want most in life.  Never let anything or anyone limit your dreams and those dreams should be BIG!  During my journey to Paralympic Gold, my motto was "My only limitations are those I impose on myself."  I hope to continue to help individuals with and without disabilities to understand this motto and believe that dreams can come true with hard work and perseverance. I just have one question for you…What's your dream?
Dan McCoy
Director of Player Development
Mighty Penguins Sled Hockey
@mclsed14 (Twitter and Instagram)