Girls Only Sled Event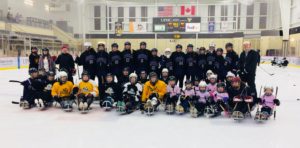 The Mighty Penguins hosted our first ever Girls Only event on the ice at UPMC Lemieux Sports Complex!  We had new players, current players, girl scouts and Chatham University Women's Ice Hockey team. The Mighty Penguins wanted to follow the World Girls Hockey Weekend initiative and try it our way….on sleds!
Introduce girls and women to basic ice hockey skills in a positive, fun and safe environment.
Inform females about ice hockey opportunities in their community.
Educate participants about fair play, sportsmanship and teamwork.
Celebrate female ice hockey, introduce participants to new friends and help them fall in love with the game.
We did all of the above and more!  Kelsey DiClaudio, Mighty Penguin and Team USA Women's player spoke to the participants to share her story and passion for hockey.  The Chatham University Women's Ice Hockey team led the on-ice portion on skates and the players also tried out our sleds, too.  Everyone enjoyed learning more about the sport of sled hockey.  We are excited to add more girls and women to our rosters! #GirlsRule