Mighty Penguins Receive Jefferson Award for Public Service
The Mighty Penguins Organization, nominated by Kyle Burgess, won the Jefferson Award for Public Service Team of 2016.  Each organization nominated shared their stories of what a volunteer can do to bring positive influences to so many worthy causes.  The Mighty Penguin Board Members accepting the award were touched, moved and informed of organizations making a difference every day in our hometown of Pittsburgh.
We thank the Post-Gazette, BNY Mellon and Highmark for sponsoring the award and ceremony at the Heinz History Center.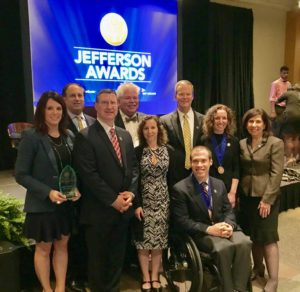 Read the full story:
http://www.post-gazette.com/life/lifestyle/2017/05/07/Jefferson-Awards-Mighty-Penguins-Sled-Hockey-board-wins-Public-Service-Team-Award/stories/201705070002
More about the Jefferson Award:
Named for Thomas Jefferson, one of America's most influential Founding Fathers and the principal author of the Declaration of Independence, the Jefferson Awards' central tenet is that each and every citizen shares a responsibility to work toward the betterment of their communities through economic participation, public service, volunteerism and other such efforts to improve life for all. Today, the mission of the Jefferson Awards is to recognize, inspire and activate volunteerism and public service in communities, workplaces and schools across America. To date, more than 50,000 individuals, including many prominent Americans, have been recognized by the Jefferson Awards for their efforts to make the world a better place. For more information, visit www.jeffersonawards.org.