THE PITTSBURGH MIGHTY PENGUINS SLED HOCKEY, INC. RECEIVES $5,400 GRANT FROM CHRISTOPHER & DANA REEVE FOUNDATION FOR NEW EQUIPMENT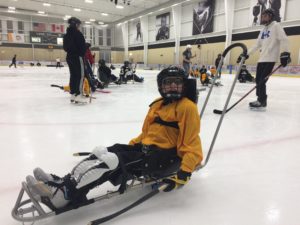 CRANBERRY TWP., PA – (JUNE 1, 2017) – The Pittsburgh Mighty Penguins are proud to announce that it has received a $5,400 Quality of Life grant from the Christopher & Dana Reeve Foundation. The award was one of 102 grants totaling $721,425 awarded by the Reeve Foundation to nonprofit organizations nationwide that provide more opportunities, access, and daily quality of life for individuals living with paralysis, their families, and caregivers. Conceived by the late Dana Reeve, the program has awarded over 2,900 grants totaling over $20 million since 1999.  Funding for the grants is made available through the Paralysis Resource Center (PRC) operated by the Reeve Foundation under a cooperative agreement with the Administration for Community Living in the U.S. Department of Health and Human Services.
The Mighty Penguins Sled Hockey operates therapeutic and competitive ice hockey programs for the benefit of physically disabled individuals in Pennsylvania and adjacent areas.  With the grant, the Mighty Penguins purchased eight new hockey sleds, of which three were specialty sleds with extra support, and eight sets of hockey sticks.  The additional hockey sleds and sticks have given the organization the ability to serve even more children and adults with disabilities.
The grants awarded in the second cycle of 2016 were distributed among a wide variety of categories, including recreation, sports and leisure, advocacy, equipment and other independent living-related services. A significant number of projects focus on community re-integration initiatives such as assistive technology programs, home accessibility modifications, accessible transportation, and accessible playgrounds that create more community opportunities for those living with paralysis and their families.
"It's important to find balance while filling the needs of the community, especially those living in underserved areas," said Donna Valente, Director of Quality of Life Grants. "People may live only a few blocks from an outstanding adaptive recreation program, but if they don't have a ramp to get out of their homes or accessible transportation to get to that location, they can't participate in the activity, and we really aren't meeting the overall goal of this program. That's why we examine every proposed project to see the impact it will have in the community, and try to determine how we can best help them reach their full potential."
About the Reeve Foundation
The Christopher & Dana Reeve Foundation is dedicated to curing spinal cord injury by funding innovative research and improving the quality of life for people living with paralysis through grants, information and advocacy. The Paralysis Resource Center (PRC) is the support side of the Reeve Foundation's twin missions to provide "Today's Care" and to strive for "Tomorrow's Cure" and offers a free, comprehensive, national source of informational support for individuals living with paralysis and their caregivers. We meet all 20 of the Better Business Bureau's standards for charity accountability and hold the BBB's Charity Seal. For more information, please visit our website at www.ChristopherReeve.org or call 800-539-7309.
About the Mighty Penguins Sled Hockey
In 1998, volunteers from Shriner's Hospital for Children in Erie introduced the sport of sled hockey to Pittsburgh and the Mighty Penguins were born! Initially the goal was to provide children and young adults with physical disabilities the opportunity to participate in a competitive sport. The parents and guardians of these players have seen firsthand the physical and emotional benefits of the program. Many local organizations have helped our program by donating ice time, equipment, customized hockey gear and insurance. Individuals throughout the Greater Pittsburgh area volunteer their time and talents to educate and assist our players.
Mighty Penguins Sled Hockey
# # #
Amy Brown
Executive Director
Mighty Penguins
724-766-9333
Rita Gentles
(973) 379-2690 ext. 7123